This post is on How to Make Money on YouTube in 2022.
You want to make money on YouTube, but you're not sure how. You think that making money on YouTube is complicated, or that you don't have what it takes to succeed.
This post will show you exactly how to make money on YouTube in 2022.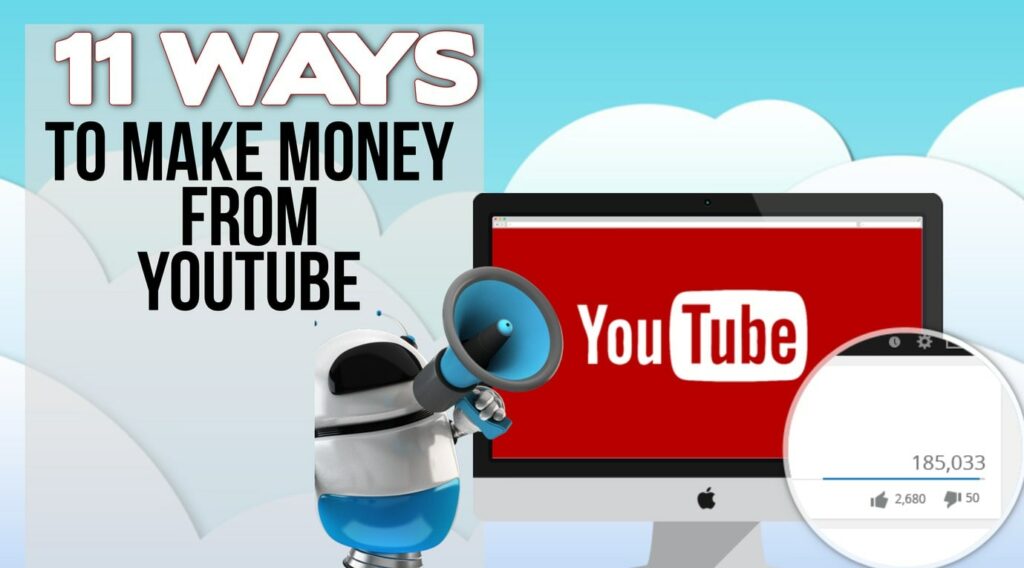 Ask any well-off YouTube channel owners how to make money on YouTube, most of them will say ad revenue is the only option that you got.
Why Only Ad-Revenue?
It's not because they don't know…
Ad-Revenue is the easiest way of making money from your youtube videos.
Apart from Google Adsense and other ad revenue, I will explain other sources through which you can make money.
Yes…
You simply do not have to rely on advertising revenue just to make money on YouTube!
CAN'T BELIEVE IT?
Stick until the end to discover how YouTube content creators are making money by implementing 11 proven ways.
And…
…after you go through this guide, earning money on YouTube will seem like a child's play to you.
AND YOU WILL HAVE MULTIPLE INCOME STREAMS.
So, let's get started.
Shall we?
11 Best and Effective Ways to Make Money On Youtube
YouTube is a great place to make money online. It's also a great place to get started with affiliate marketing. But how do you make money from YouTube?
There are many ways to make money on YouTube, but most of them require a lot of work. In this article, I'm going to share 11 different ways to make money on youtube that will help you build a passive income stream.
I've tried each of these methods myself and found them to be very effective.
I'm not saying that they're guaranteed to work for you, but I am saying that they're worth trying.
Join The YouTube Partner Program
YouTube channels enjoy features on the platform through YouTube Partner Program.
Are you Confused…
Seeing the name?
You might get the feeling that you need to be a partner to be a part of the YouTube Partner Program.
But…
This is not how it works…
You just need to sign up for an Adsense account and get enough views.
Nonetheless, YouTube Partner Program offers access to numerous ways to make money.
That does not only include video ads. You also have YouTube Premium subscriber fees.
Also, you will have the ability to tap the wallets of your loyal YouTube Premium fans directly.
How?
Super Chat!
Wondering how to set up your YouTube account for YouTube Partner Program?
Let me help you…
Here are the steps:
Step 1: Start Your YouTube Channel
Before anything else, you will need to create a YouTube account.
Next, set up your YouTube channel and properly customize it.
The customization features allow the YouTube users to fill out the Basic info, Layout, and Branding.
These are crucial if you want to create sponsored content.
So, fill them out correctly before uploading videos.
Note: You need to have a Gmail account (Gmail Id).
Step 2: Meet the criteria for YouTube Partner Program
After setting up your YouTube account, you will need to get at least 4000 watch hours of YouTube views in 12 months.
Wondering how many subscribers will you need for making your YouTube account eligible for an Adsense account?
It is 1000 subscribers.
Again, the same 12 months period is applicable for the subscribers.
There are multiple tactics available that will enable you to make video content to meet these criteria.
Choose one that works the best for you and keep them in your mind while creating videos.
Step 3: Setup the Adsense Account
There is an official guide for creating an Adsense account. That guide makes it easier for a content creator to earn money on YouTube.
Do note that having a linked Adsense account is vital for this case. All of the YouTube influencers have it. And you will need one too.
Step 4: Explore the Monetization Features
After creating the Adsense account, you will have a couple of monetization preferences.
Each of the revenue streams has its own eligibility requirement.
For example, for Super Chat, you will need to be at least 18. The same thing is applicable to channel memberships.
On that note, apart from just being at least 18, you will need to have at least 10 thousand subscribers to be eligible for channel memberships.
Without that amount of subscribers, you can not get the benefits of channel memberships.
Does this worry you?
You shouldn't as you will create high-quality video content.
Also, utilizing live streams and making a viral video can make things easier for getting tons of YouTube Premium Subscribers.
Step 5: Submit to Ongoing Reviews
Your account will be held to a higher standard after you get to earn YouTube premium revenue.
For that reason, you should follow the video creator policies of the YouTube Partner Program and the Community Guidelines.
Become An Affiliate Partner
Another way of making money on YouTube would be to become an affiliate YouTube partner. A lot of YouTube influencers will utilize this feature.
However, if you want to make money through this method, you need to have an engaged and loyal audience.
It can take quite a while for YouTube content creators to get this type of YouTube audience.
However, if you are a Youtube influencer, generating YouTube revenue through the affiliate network will be a piece of cake.
If you are thinking of monetizing your YouTube Videos with Affiliate Program then you can double or triple your revenue by starting a blog on the same topic.
Create Sponsored Content
YouTube content that is sponsored is excellent for making money. Again, it will not be that difficult for you to see a YouTube influencer utilizing this YouTube advertising tactic.
Now, if you are wondering how to earn money through this method, here are the steps:
Find a brand to partner with.
Make a proper deal with the brand.
Be transparent about the sponsorship deal on video descriptions.
Follow the FTC and ASA guidelines for getting revenue streams through sponsored content.
Note: Once you get sponsorship, you will have to make exclusive content for your audience.
Sell Products or Merchandise
You can make both regular and YouTube Premium members buy your products or official branded merchandise.
Yes, You Heard It Right…
You do not need to rely on media outlets to sell your products!
It is surely possible to make YouTube videos about your product. In fact, you can even hold an entire video or live stream about your own products.
Likewise, you can create videos and ask your viewers to buy your merch at the end of the video.
Saying that the merch will help you to create videos and make your YouTube channel grow will definitely make your loyal YouTube viewers purchase your merchandise.
You can also showcase your merch on your watch pages.
On that note, T-shirts make more money than any regular merch. And the video creators that make their branded T-shirts sell faster than the others.
In other words, you can make more quickly through unique clothing apparel. So, if you were looking to earn money other than just YouTube income, step up your merch game.
Get Your Fans To Pay You Directly
One of the effective ways to earn money without relying on ad revenue is by making your fans pay you directly.
You can make money pretty easily through this method. And the steps that you would need to follow are:
Step 1: Host Live Chat Streams
YouTube replaced its Fan Funding feature with Super Chat in 2017.
Super Chat basically allows a YouTube channel to make money from live streams. However, you need to know your target audience properly.
They will not pay you if they do not feel like getting their messages highlighted on your live streams.
Step 2: Make Your Viewers Pay You by Becoming Channel Members
Apart from ad revenue, YouTube allows you to sell channel memberships to make YouTube revenue. It is one of the types of income streams that can help you make money on YouTube.
However, you will need to do more than just offer multiple videos a week to get a hold of these members.
Along with making videos, you will need to offer these members some exclusive features.
For example, giving these members access to your unreleased music videos can work (if you are an artist).
You can promote this exclusive feature through the video description or through your YouTube videos.
Step 3: Encourage Premium Subscription
You can take advantage of your YouTube views and promote your YouTube Premium Subscription. However, this step will benefit your channel indirectly.
But it does not mean that the method will be ineffective. When the Premium Subscribers watch your music videos or other types of videos, you will get a small cut.
Now, if you are good at making videos, that small cut can translate to a high overall percentage.
And if you are wondering how many YouTube views you need to get a targeted amount, check your chart monthly estimated revenue.
It will offer a proper insight into how much your YouTube channel is making monthly.
Use Crowdfunding
Another effective way to make money on YouTube is to use crowdfunding.
In fact, if you ask a YouTube marketing expert, you will notice them recommending this method before anything else.
But how should you actually implement this?
Here are the steps:
Step 1: Set up a Crowdfunding
YouTube has its own list of approved crowdfunding sites. You can choose any one from that list.
Sites such as GoFundMe, Patreon, and Kickstarter are the top choice for many YouTube creators.
Step 2: Promote your campaign
Setting up crowdfunding is the first half of the story. To make money through that website, you need to promote your campaign.
Use the power of your YouTube views and make your viewers fund you.
I recommend offering enticing perks if you really want to make your campaign attractive.
Step 3: Go Beyond YouTube
It goes without saying that a successful funding campaign is a multi-platform affair. So, you should always promote your YouTube channel and your funding campaign everywhere else.
License Your Content To Media
Every news outlet would want to get their hands on a copy of a viral video in order to replay it to their audience in high quality.
And most of the established media are well aware that they would need to pay the content creator to use their video.
But the question is…
What steps would you need to follow to make money through this method?
Let us walk you through:
Step 1: Update Your Contact Details
Whether you want to license your content or not, keeping the About page updated is quite crucial.
You will never know when your video will get viral.
Step 2: Get to Know About the Video Rights Marketplace and Sign Up
News outlets often need timely videos to wrap up their reporting. For that reason, they are not always on the hunt for viral videos.
So, you can just put your videos for sale on video right marketplaces.
Junkin Media is a great option in this case.
Get Featured On YouTube Premium or YouTube Red
One of the ways to make money on YouTube along with running channel advertisements is through YouTube Red.
At its core, it is a paid membership service that will enable YouTube users to watch ad-free videos.
And creators do not have to do anything because they will automatically get a revenue stream.
However, if you get featured on premium, you will make more money than usual. With premium YouTube members watching your videos, you will get a small percentage of the fee that they are paying.
And if you can attract enough premium users, that small percentage can pile up into a high income.
YouTube Monetization
You can earn a fair amount of money through affiliate links.
Loads of popular YouTube content creators are working as an affiliate of various brands. By putting the links on their content description, these content creators are basically making the affiliated products or services seem more attractive.
Are you asking yourself how you will earn money through affiliate links?
Here are the steps that you can follow:
Step 1: Sign up For a Popular Affiliate Program
Sites such as Amazon's Affiliate Program and Click Bank are the go-to places for content creators.
Get into these sites and get yourself an affiliate account
Step 2: Promote Products With Your Affiliate Link
After you sign up for the affiliate program, you will be capable of making affiliate links to products.
Promote those through your videos. When your viewers purchase those specific products through your affiliate link, you will receive a small percentage of what they are paying.
Along with Youtube Videos, you can also promote affiliate links on your Blog.
Make the Most of Your YouTube Marketing Funnel
Creating a YouTube marketing funnel would mean understanding the types of videos you need to produce.
In fact, there is no better way to make videos other than using the content marketing funnel.
You can see how powerful a marketing funnel can be once your videos appeal to buyers in different stages.
So, give it a try!
Master Your YouTube SEO
You can get the edge over the other content creators by mastering the art of YouTube SEO.
Basically, it refers to creating SEO content descriptions, which will eventually translate to higher overall views and engagement.
And a video with an SEO description usually earns more than the ones that are not optimized for searches.
Tips To Optimize Your YouTube Videos
Optimizing your YouTube videos to generate a huge amount of revenue is not that hard.
Just keep these tips in your mind and see how easy it becomes:
1. Try to Make Your Videos Ten+ Minutes Long
Videos that are longer than 10 minutes have a higher chance of generating more revenue. Advertisers would target these videos more.
And you can get a higher overall watch time as well. Which is generally good for YouTube SEO.
2. Collaborate with Other YouTubers
One of the easiest ways to optimize your content is to bring in the audience of other YouTube channels.
In other words, you should collaborate with other YouTubers. That will enhance your presence and allow your content to get higher overall visibility.
3. Create Informative and Engaging Content
Creating informative and engaging content is vital for getting success on YouTube.
YouTube has 2 billion active users. And all of these users are on the platform to watch videos that offers them value.
If you can provide what they are searching for, you will not find it that hard to stay ahead of the competition.
4. Make the Most of Your Descriptions
Descriptions help users to discover your content. In fact, many users will decide whether they should watch the video or not by reading the description of the video.
So, instead of writing gibberish on the description tab, try to follow the age-old journalistic writing approach.
Try to mention obvious things and then work towards linking with the less important things.
5. Build your Following by Staying Consistent
Users of YouTube are more likely to follow channels that offer consistent content. The steady stream of videos will allow you to get a proper hold of your subscribers and attract more.
The Components of A Successful YouTube Channel
If you are really on the grind to become the most successful channel on YouTube, you need to check these components:
1· Channel Art
Branding can never be overemphasized.
Branding helps content creators build loyalty. Without proper branding, your channel will look pretty much average to the users who are going to stumble upon it.
For that reason, you should work on a unique channel art and use it throughout your entire social media platforms.
2· Call to Action (CTA) Within The Channel Art
Think of what your channel is all about. For example, if it is about fitness, you can just add a call to action within your channel art by saying "Stay Fit."
This would allow your potential viewers to click on your channel and watch all that you have to offer.
3· Add a Decent Profile Picture
Just like channel art, your profile picture is also branding. You will need to come up with something unique and something that will catch the attention of the users.
4· Channel Trailer
YouTube allows content creators to add a channel trailer. This helps the users who are not subscribed get a fair idea of what your channel is about. You should not skimp on this factor and try your level best to make the users familiarize with your content.
5· Channel Trailer CTA and Description
Like channel art, you can add a CTA to your channel trailer. Remember, the trailer will mostly be viewed by users who are not subscribed to your account.
So, if you can add a proper CTA on your trailer, it will help to get the appropriate attention to your content.
Also, put adequate emphasis on the description of the trailer.
6· Recent Uploads
Regular uploads will let you grasp the attention of your subscribers. Also, it will help you get higher overall visibility and attract more users to your channel.
However, stay consistent with your uploads. You will not want to offer low-quality videos just. It will make your account go downhill.
How To Enable Monetization on Youtube?
Enabling monetization on YouTube is pretty easy. Here are the steps:
Log into your account and click the account icon.
Click YouTube Studio, and from the left-hand menu, choose other features and then monetization.
You will need to go through Partner program terms and click agree.
Next, you should connect the Adsense account and define your preferences.
Frequently Asked Questions
How Much Money Can You Make on YouTube?
It depends on how effectively you are using your tactics to make money. But on average, YouTubers make $3 to $5 per 1000 views.
Who makes the most money on YouTube?
According to the Statista report of 2021, Mr. Beast makes the most money on YouTube.
Do You Get Paid for Uploading Videos on YouTube?
Youtube does not pay for uploading videos on its video platform. However, the more quality videos you upload, the more views you will get and the chances of ads click will increase and you will earn more money.
How do You Make Money From YouTube?
There are multiple ways of making money on YouTube. In fact, we have gone through 11 effective tactics that you should definitely go through.
How many YouTube Views Does it Take to Make $100?
On average, YouTubers get $3 to $5 per 1000 views. So that translates to 33 thousand to 20 thousand views for making $100.
Note: It also depends on the country you are targeting.
How do You Start a YouTube Channel and Get Paid?
Starting a YouTube Channel is pretty easy. You will need to log in through your Gmail account and set things up. For getting paid, you need to enable monetization. You can read this post for details.
How Much Money Do 1 Million YouTube Views Make?
According to the average revenue, 1 million YouTube views will make $5752.
How Many Subscribers Do You Need to Make Money on YouTube?
To become a part of the YouTube Partner Program, you will need at least 1000 subscribers and 4000 watch hours of video.
How Can You Make Money on YouTube Without Making Videos?
You can reuse the content of other users. Likewise, you could just highlight your old videos and sell products through the videos.
How Many Views Do you Need to Get Paid on YouTube?
You will need at least 4000 watch hours in the span of 12 months to be a part of the YouTube Partner Program.
What is YouTube Premium?
Formerly known as YouTube Red, YouTube Premium is a membership service that amplifies your experience on YouTube.
Why You Should Look Beyond Ads for Revenue?
You can earn tons of money if you combine ads and other monetization methods together.
So When Do You Start Making Money on YouTube?
When you meet the requirements and enable monetization, you start to earn money.
How to Get Paid on YouTube?
You can get paid by signing up for the Partner Program. Also, enabling monetization will do the trick.
How to Make Money From YouTube Despite The Competition?
Make your content stand out, collaborate with other famous users, and look beyond ads if you want to earn money despite the competition.
When Do You Start Making Money on YouTube?
You will start to earn money when you meet the requirements and enable monetization.
Is It Hard to Make Money on YouTube?
If you know the right tactics, earning money on YouTube can be a piece of cake for you.
Who is the Highest-Paid YouTuber?
According to Statista report from 2021 shows us that Mr.Beast is the highest-paid YouTuber.
What is the Best Way to Make Money on YouTube?
The best way to make money would be to combine different tactics and implement them properly.
Why Aren't My Videos Making Any Money?
You probably did not turn on monetization. Without that turned on, you can not make any money.
What Kind of Equipment do You Need for YouTube?
There is really no need to go overboard. Just the essentials will do the trick. And the essential includes a proper video recorder (your phone), microphone, lighting, and proper video editing software.
Where Can I Get Video Editing Software To Make YouTube Videos?
Video editing software such as Final cut Pro and Premiere Pro are the go-to options. You can get any of the software through the official site.
Can I Use Copyrighted Music in My Videos?
No! Your video will get copyright claimed, and you will not earn any revenue from that video.
What Should I Title My Videos on YouTube?
The title should be meaningful, concise, and should draw proper attention.
How Much Does it Cost to Start a Channel on YouTube?
It is completely free to start a channel. All you need to do is spend money on the equipment.
How do You Become Popular on YouTube?
Make high-quality videos, attract the right audience, enhance your visibility and increase your level of engagement.
How Much Money Do YouTubers Make?
On average, YouTubers will make $3 to $5 per 1000 views. And the total amount will depend on the number of views the videos are getting.
Summary: How to Make Money on YouTube in 2022
As you can see, learning how to make money on YouTube is not rocket science. You just need to know what tactics you need to implement and how you should implement them.
What are you waiting for Start a Video Games Channel, Promote Affiliate Products, Promote Email Marketing Software, Do Product Reviews…
There is a hell load of ways to make money through YouTube Videos.
…and Make a Healthy Income.
Here's How to Can Start a YouTube Channel?