Starting a blog in 2021 is not that difficult. Even you will find a step-by-step guide on How to Start a Blog on various platforms like Google and Youtube.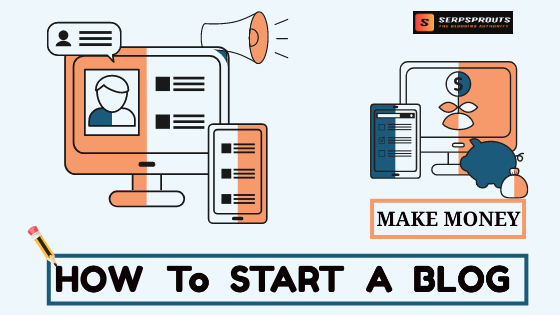 But the real challenge is to get traffic and make money.
That's why I have written a comprehensive 11 steps guide so that there is no stone left unturned.
I have also included screenshots, GIFs, and over the shoulder videos so that you get everything in one place.
11 Easy Steps to Start a Blog
Choose Your Niche.
Pick a Domain Name and Extension.
Get a Web Hosting.
Install Blog Platform.
Make Your Website a Brand.
Customize Your Website and Make it Look Professional.
Install the Must-Have WordPress Plugins.
Create Essential Pages and Categories.
Write your first blog post
Promote your Blog and Get Traffic on your Blog
Monetize Your Blog
You need to perform the above steps to start a successful blog that can make passive income month after month.
Oh…
But hold on.
I got your question. How can you do the same as a beginner?
Don't worry I have covered all the steps in detail so that you can easily create your website or blog and start earning money online.
Quick Reminder: To be a successful blogger you need to take action. Start your blog right now as I explain to you everything in detail so that you don't miss anything and by the time you finish reading this comprehensive guide, your blog/website is ready to go live.
The Blogging Mindset You Need to Make Money Online
Starting a blog is not that difficult. I will say it is easy to start a blog. The success of your blog will depend on your mindset.
Many bloggers are very successful in their blogging career and earn six figures per month.
They are successful not because they are good at copywriting and digital marketing or marketing. They are successful because of their mindset. They treat their "BLOG AS A BUSINESS".
I am not saying that all the other skills are not important.
I just want you to have a proper mindset before you start a blog. So that you don't quit in between.
You will find many blogs on how to start a blog but there are very few bloggers or experts in the blogging field who talk about mindset.
Believe me…
Mindset is so important…
Once you make up your mind and have a proper mindset. You will make tons of money like I earn $XXXX/Per Month.
The points that I am going to explain below are based on my personal experience. Don't skip this section as this section will help you to be a top blogger in your niche.
Treat Blogging as a Business, Not a Job
Treat blogging as a business, not a job. Let me share with you my experience when I started my online career and I believe most of the newbies do the same.
I checked my google analytics and different affiliate dashboard after every 5 to 10 minutes.
I was chasing the statistics and in return I got nothing but frustrations and stress. I changed my approach and now everything is easy, enjoyable and smooth for me.
We generally look for short-term profits and underestimate the long-term goal. "Go for long-term goals".
Not a single famous blogger who earns in six figures got overnight success. The sooner you understand this the better it will be.
I started my blogging career as a business and I will advise you to build a business instead of chasing statistics and money. The money will automatically follow.
"Success is a Journey not a Destination Likewise Blogging is a Journey not a Destination."
Blogging can be Hardest at the Start
Sometimes it can be very overwhelming at the start. Having a proper mindset can easily solve this issue.
You need to work the hardest in the beginning and it will be rewarded the least.
What I mean to say is…
Blogging is not fun at the beginning but can be fruitful later.
Be Ready to Accept the Rejections and Failure
Have you ever seen a pendulum? Yes! I know your answer is YES…
The equilibrium in the pendulum swings forward in the same ratio of distance as it swings back and the same applies in our career as well.
"The Key to Success is in Massive Failure."
You cannot swing the pendulum in one direction. Likewise, you cannot only taste success without tasting any failure and rejections.
"If you want to be Successful, Increase the rate of your Failure."
Darren Hardy has mentioned this in a "Pendulum Effect Concept".
According to Darren Hardy one side of the pendulum has failure, defeat, rejection, pain, sadness, etc and the other has success, victory, joy, happiness, acceptance, etc.
To taste success, comfort, and acceptance you have to taste failure, discomfort, and rejection as well. I have already mentioned that you cannot swing the pendulum in one direction.
You can watch the complete Darren Hardy's video to dig deep into this topic.
The Mindset of Hard Work
I won't say that you don't need hard work. You need to work hard, especially when you are starting. But you need smart work throughout your blogging journey.
Apply Brick by brick Concept
One Blog post at a time. Try to complete one task at a time and avoid multi tasking.
I will give you all the details in this post on how you can mix hard work and smart work when you are creating your website.
The One Percent Rule
Try to improve yourself and your blogging business one percent every day. You can do this by learning new things related to your niche every day. If you do this you will grow by 300 percent year after year.
Always welcome new learning opportunities from your mentors, colleagues, coaches, and teachers.
Don't Let Fear Influence your Decision-Making Ability
You have to face the fear whether it is a fear of success or fear of failure.
I used to have a fear of success and failure both and this influenced my decision-making ability. Once you face the fear, everything will be easy for you. Don't let "what if" take over your mind.
Be happy if you encountered any obstacles while creating your blog.
Oh…
Com'on…
How can anyone be happy if he has an obstacle or problem to tackle?
I know this question was coming from you…
You might be thinking the same. So let me explain by giving my example.
Whenever I had some issues with my website in my initial days of blogging. I was very stressed and overwhelmed.
I thought that my life and blogging career is over. This behavior of mine doesn't solve the problem, instead I wasted my time.
But…
Now I changed my approach. Instead of getting stressed, I take it as a new challenge and learning opportunity.
Now I feel happy because I can improve myself one percent every day and I can learn new things.
This happened because of my new version of mindset. Now I believe that I can solve any obstacle or problem. I don't see myself as a victim anymore. Now I understand that fear and doubt are not the truth.
I go to google and search for the same problem and guess what…I get all my questions solved as many faced the same problem and they have the answer for the same.
Just remember one thing. Seeking help from your niche communities is the real power of blogging.
"Where There's a Will There's a Way"
No More Excuses
I always had some excuses when I tried to take some action.
Remember one thing, you always have a choice. Either you make excuses and do nothing or you take action. I changed my mindset and took action and now I am reaping the fruits.
The Power of Now
Most of the time we think of the past and the future. Neither we have control over the past nor the future. But we can control our present.
I was also in the same boat a couple of years ago. I always thought I could have done this in the past and I have to do this in the future. These thoughts were no good to me and made me procrastinate.
Now I am changed. I always think of what I can do right now. This shift in my mind shift helped me a lot. I don't procrastinate anymore. Remember one thing, Now is the right time.
Avoid Shiny Object Syndrome and Online Hype
Try not to get attracted to the next Shiny Object and Online Hype. Stick to your plan and work on that.
You will find many online so-called Experts and Gurus who will pitch their products and services every then and now without providing any real value.
Avoid and stop following those who don't add values and often promote their products. You will waste your hard-earned money and time following them.
Stop Chasing the Money
Always try to add value to your readers. Don't be desperate for the money, add values and the money will chase you.
Build Private Influencer Network (PIN)
When I started blogging, PBNs (Private Blog Networks) were quite common. Time has changed and this doesn't work anymore in fact this may harm your website. Instead, try to connect with Influencer in your niche.
Try to connect with influencers in your niche. This will give a boost to your website while building backlinks.
Patience is the Key to Success
The one who doesn't have patience quits early. Remember one thing, as every day is passing by someone is dropping out. At the end you and a couple of bloggers will enjoy the traffic and money.
Enough on Mindset…Now let us discuss about the topic, you are here for…
What is a Blog? The Difference Between Blogs vs Websites
Have you ever written a diary or a journal?
People used to write diaries every day where they write their daily, weekly, or monthly experiences and their thoughts.
Blogs emerged as diaries in which the bloggers write about their experience. Now things have changed a bit and we try to target a particular niche with high demands.
Blogs are run by an individual or a small group where they present information in an informal and conversational style.
Blog is a kind of website where articles appear in chronological order with the newest post at the top.
In the '90s people used to write online diaries and journals in the form of blogs and back then it was called 'weblog'. As time passed it was called 'We Blog' and now it is called Blog. Now it has become so popular that even non-techie can also start a blog.
Two of the most popular blogging platforms are Blogger.com and WordPress.
Blogger.com was started in the year 1999 and was acquired by Google in the year 2003.
WordPress was launched in the year 2003 and is the most popular blogging platform. Almost 30% of the websites on the entire internet are developed by WordPress.
Blog vs Website. The Difference you Should Know
There is a major difference between Blogs and Websites.
Blog is a type of website where posts are published in reverse chronological order with the newest article at the top.
It is easy to publish online in Blogs.
Blogs are dynamic in nature and are updated frequently whereas websites are static in nature and content is generally posted in the form of pages and are not updated frequently.
Blogs are two-way communication tools where readers have the option to leave comments and directly communicate with the author.
Today you can find blogs on every website because people trust blogs.
Why Should I Start a Blog?
Why Should I Start a Blog? This depends on you…
But…
In this section I will list some benefits of blogging. I started blogging because I wanted to work from home and make money.
Your reason could also be the same or you may have some other reason.
If you don't know the answer to "WHY" then read this section or you can jump to the next section.
Work From Home and Make Passive Money Online: Blogging is one of the best ways to make passive money online. You will have the liberty to work from home and be your boss.
Give a boost to your Business or Organization: Once you start a blog you will realize that you have a wide range of audiences to reach. This will help you to provide additional value to your customers and ultimately it will increase your business to grow.
Personal Growth: You will learn new skills and this will enhance your personal growth. This makes you a better person.
Connect with Other People: This is the best part of blogging. You will have the opportunity to network with different people in your niche.
Enhance Your Writing Skills: When I started blogging the one thing I was very much afraid of was writing content.
But…
Now I am very much comfortable when I write a blog post for serpsprouts.com. My writing skills have improved day by day.
Google Loves Blog: Creating a blog means you are inviting Google to crawl your website and list on google. This simply means your website will get some organic traffic.
Helping Other People: If you have a blog that means you are solving other's problems through your blog. This can also make you popular and authoritative in your niche.
Personal Brand (Self-promotion) and New Opportunities: Having a blog means you have a channel through which you can share your knowledge. You will become an expert in your field and you can promote yourself as a brand.
Now let's discuss, how you can start a blog?
Choose Your Niche (Niche Research and Planning)
The success of your blog will depend on the niche you go with. Knowing your niche beforehand is one of the best and most important things you can do while starting a new blog.
Spend some time on this section as this section is so important. You will make your most important decision while reading this and doing niche research and planning. This will save so much time and money.
If you visit a new city and you have a map of that city. Don't you think the map will make your job easier?
I know your answer is yes…
Niche Research and Planning are similar. You will have a map of the website that you are going to build. Picking the right niche means half of the battle won.
If you don't have any idea about a niche and you are not sure about the topic you are going to create a website on.
Don't worry as I will explain everything. The three most important things I am going to explain are:
What makes a good niche?
How to approach niche research?
Examples of good profitable niches.
Niche research and Picking a perfect niche is one of the most important process.
Let me explain to you why?
There are many steps involved while creating a blog and you will have the liberty to rectify your errors easily most of the time. It will be very difficult for you to recover and correct your mistakes if you picked a bad niche.
Don't make this mistake.
Take your time and do things right.
So…
Here's the deal…
Let me explain to you the approach I take when I create a new website. I follow "TOB FORMULA".
Oh, Hold on Karan…
What the heck is TOB?
I know you might be confused and want to know about TOB.
This simple approach guarantees long term success. I always start a new blog using this same formula.
TOB means:
T: Things You Can Sell.
O: Online Buyers.
B: Beatable Competition.
Let us dig deeper into TOB Formula…
Things You Can Sell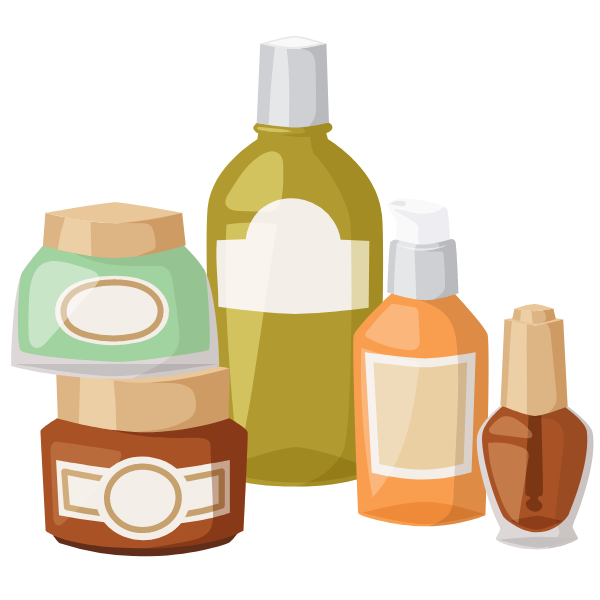 What's the point in getting traffic and ranking on google, if you cannot make money from your blog. Our ultimate goal is to make at least five figures ($$$$$) from the blog.
Making $500-$1000 per month is very much possible with advertising but if you want to go beyond this you should know what you can sell from your blog.
How can you make money from your selected niche? You should have an answer to this question.
If your niche doesn't have an answer to this question then I will advise you to drop your niche and start the niche selection process again.
Yes, you can monetize your website with advertising networks like Adsense, Media.net, Buysellads.com, Infolinks, Propeller Ads, etc. and can make $100-$500 per month.
If you are creating a website on birthday wishes, quotes, funny images or wallpapers. You can not sell your products or affiliated products on these kinds of websites.
Let me give you an example of a perfect niche.
Let's say you are very found of Paintball then this could be a juicy niche for you. You could sell a ton of products like Marker, Mask, Outfit, etc.
That is why I am asking you to do a detailed niche research.
Yes Karan, we understood this but how to do niche research?
Don't worry I will explain everything in detail.
You just go through the complete post and by the end of this, you will have a perfect niche which can give you $$$$$ per month after a certain period of time.
Online Buyers
Now you know that your niche has many products that you can promote and sell.
But hold on…
This is not the end of your niche research.
There are a couple of questions that you must address before going further.
Do people want to buy the products that you are selling and promoting?
And…
If there is an audience for your targeted niche then how many people are interested?
Will the demand for the product remain the same in the coming years?
Will it increase or decrease?
You should have a very good understanding of your niche before proceeding as this will decide your long term success. You should know the long term potential of your niche. This will help you to know if there are online buyers or not.
You can know this by keyword research and Google Trends.
The next thing you want to consider is whether you want to focus on and target a narrow audience or a wide one.
Let me take an example of a health niche and explain this.
If you want to start a blog on health niches that means you are going for a wide audience. If you narrow down the health niche and start a blog on weight loss that means you are going for a narrow audience.
Confused?
Let's take another example of Dog Niche.
ABC has started a blog on dog niche and he writes on each kind of breed like Retrievers (Labrador), German Shepherd Dogs, Retrievers (Golden), French Bulldogs, Bulldogs, etc.
And…
XYZ has started a website on German Shepherd Dogs and he only writes about German Shepherd.
I hope you get my point. ABC is focusing on Wide Niche and XYZ is focusing on Narrow Niche.
Now you may ask whether I should go for Wide or Narrow?
To be frank I don't have an answer for this as both works well and each has its pros and cons. I will mention the pros and cons and then you can decide which route you want to take.
Narrow Niche
Advantages:
Google love experts and authority site. Going for a narrow niche means you will be treated as an expert in your niche.
Your website will rank easily and you will see faster results.
One of the best ways to earn passive income. As competition will be comparatively very less. You need few articles and can leave the site.
You can easily resell the website without any issues.
Disadvantages
You will have to create multiple websites, if you want to grow. This means you will have to manage different sites and organizing them can be difficult.
Sometimes it will be very difficult to find relevant keywords.
Link building opportunities will be very limited.
Wide Niche
Advantages:
High exit value means you can sell your website with a huge resale value. Big websites are sold for very high margins.
You will have the opportunity to reach out to different websites as you will cover a wide variety of products. Link building will become very easy.
You will have a wide range of options to monetize your website. There will be a variety of products for you to get affiliated with.
Disadvantages:
The website may take time to get traction.
You will have to work hard to beat your competitors.
I hope by now you have decided whether you will go for a narrow niche or wide niche.
The next important thing you need to consider is seasonality.
Now…
What's Seasonality?
Nothing technical you just need to check whether the niche you are choosing is seasonal or not.
Some products are only sold in some seasons and some are sold throughout the year. If you choose a seasonal niche then your revenue and traffic will not remain the same throughout the year.
Let me explain this by taking two different examples.
Let's take Outdoor Sports as a niche.
People will not buy outdoor sports products throughout the year as weather conditions will not permit them to enjoy their sports.
Now let's take an example of Dog Food.
Dog owners will need dog food throughout the year as they have to feed their dogs. It has nothing to do with the season.
Beatable Competition
If no competition means there is no money in the niche.
Or
People have not found a niche yet.
And this is not possible at all.
Competition exists everywhere and it is good if you can beat your competitors.
There are various factors that you need to take care of before you decide whether a niche is beatable or not. I will talk more about it in the next section.
Finding Profitable Niches That Can Make 5 Figure Per Month
Blindly going for a niche will not take you anywhere. There are certain things that you need to take care of before choosing a niche.
If you have read so far that means you are very much serious and you want to start a successful money-making blog.
The three big markets that you can target are:
Relationship and Dating.
Health and Wellness.
Wealth (Money and Finance).
Confused?
Or want to go deep?
If not then you can jump to the next section.
If yes then…
Let me break down so that you can get the point easily.
Let's take a couple of examples of each market.
Example for Wealth Market
Wealth > Investing > Investing for entrepreneurs.
Wealth > Investing > Buying websites.
Wealth is a market.
Investing is a sub-market.
And
Investing for Entrepreneurs and Buying Websites are Niches.
Example for Health and Wellness Market
Health > Nutrition > Nutrition for moms.
Health > Nutrition > Diets > Vegan diet.
Health is a market.
Nutrition is a sub-market.
Nutrition for Moms and Diets are Niches.
And
Vegan Diet is a sub-niche or micro-niche.
Example for Relationship and Dating Market
Relationship > Dating > How to save your relationship.
Relationship > Dating > Dating advice for men.
Relationship is a market.
Dating is a sub-market
And
How to save your relationship and dating advice for men is a niche.
If you are still unable to decide which market to target then let me help you and break it further down.
Niches That Can Help You to Quit Your 9-5 Job
Have you ever faced any problem in your day to day life and went online to look for the solution?
I am pretty sure that you may have some passion like Photography, Cooking, Paintball, Fishing, Rock Climbing, or any other passion.
And…
You go online to buy stuff related to your passion or want to learn more about it.
You might be in a relationship and go online for dating advice.
You might go online and look for the latest fashion and you want to improve your lifestyle.
Likewise, each person faces or goes through one or the other situation and looks for solutions online.
Now you may ask what's the point "Karan Mallya"?
Here comes an opportunity for you.
You can further divide the big market (Health, Wealth, and Relationship) into these day to day situations.
And
These can be divided into:
Lifestyle
Some of the niches that come under Lifestyle are:
Fashion
Parenting
Pet Ownership
Outdoor Lifestyle
Passion
The topics that come under Passion are:
Photography
CrossFit
Cooking
Fishing
Gardening
Problems
The niches that come under Problems are:
Smoking
Acne
Weight Loss
Diabetes
Wrinkles
I hope you have got the point and ready to decide your perfect niche.
The people are ready to spend money on the above niches.
Excited?
But…
Hold on…
We are not done yet.
You may be asking…
Karan I know about the perfect niche.
You have already explained it in this section.
Let me ask a couple of questions …
And…
Decide if you have selected the best niche for yourself or not?
Let's take any niche from my above-mentioned examples…
Ok I will go for Paintball as I love paintball.
Now assume that I have started a website on Paintball.
Designed a beautiful looking blog…
Wrote 50 comprehensive blog posts…
Now what?
Is this enough to rank my post? How can I know that I will rank for the post?
How can I say that the niche that I have chosen will make money for the long run?
After doing so much work. I find that there are not enough products to promote.
What if I find it very difficult to rank my posts as I have chosen a competitive niche.
Don't you think that all my hard work will be a total waste of time and I will have to start from the very beginning and hope for the best?
I know most of you might have been in the same situation.
But…
Worry not…
Here comes the next section where I will explain to you.
How you can avoid all these situations and select a perfect niche.
The Things You Need to Know Before Finalizing Your Niche
Before finalizing your niche you need to do market research. As I have selected paintball as my niche I need to know a couple of things before going further.
Competition
What do you think? Is competition good or bad?
You might have read in various other blogs that competition is bad.
But…
Let me tell you competition is not bad.
If there is a competition in any niche that means the other bloggers are making money and you can also make money.
The only thing you need to know is how competitive a niche you can go for.
How comfortably can you beat your competitors?
The two things that you will have to find out are:
Are there any big sites on your niche or not, that are ranking?
Are there any small sites on your niche that are ranking?
These two things will help you to know whether your selected niche is making money or not.
And…
How easy it will be for you if you decide to go for the selected niche.
The next thing you need to find is…
Commercial [How Many Ways You Can Monetize Your Blog]
This section is very important as you will find how much you can expand your blog in the future. You will get to know the various ways to monetize your website.
You need to find:
Are there any info products that you can promote?
Are there any Physical products that you can promote?
Are your competitors making money using advertisements on their website?
Now you know the monetization strategy of your competitors. The next thing is to find how easy you can rank.
SEO (Search Engine Optimization)
What is the point if you cannot rank your keywords on the first page of a search engine?
The above research will be a total waste if you fail to rank.
How confident and motivated you will be when you know that your niche is easy to rank?
And…
The best part is you will be confident because you have done the research beforehand. The three things that you need to find are:
Are there easy to rank keywords in your niche or not?
Are the keywords seasonal or evergreen?
Can you easily build links on the selected niche or not?
Now if you have followed me till now then you are ready to finalize your niche.
I know this will take time but believe me this section will make things a lot easier in the coming days as you will have all the research done beforehand.
You will not regret it in the future.
Organize Your Site Structure
I believe you are with me till now and you have done all the research. Now you have all the data and keywords. Looking into these keywords you can organize your site structure.
Having a good site structure has its SEO benefits.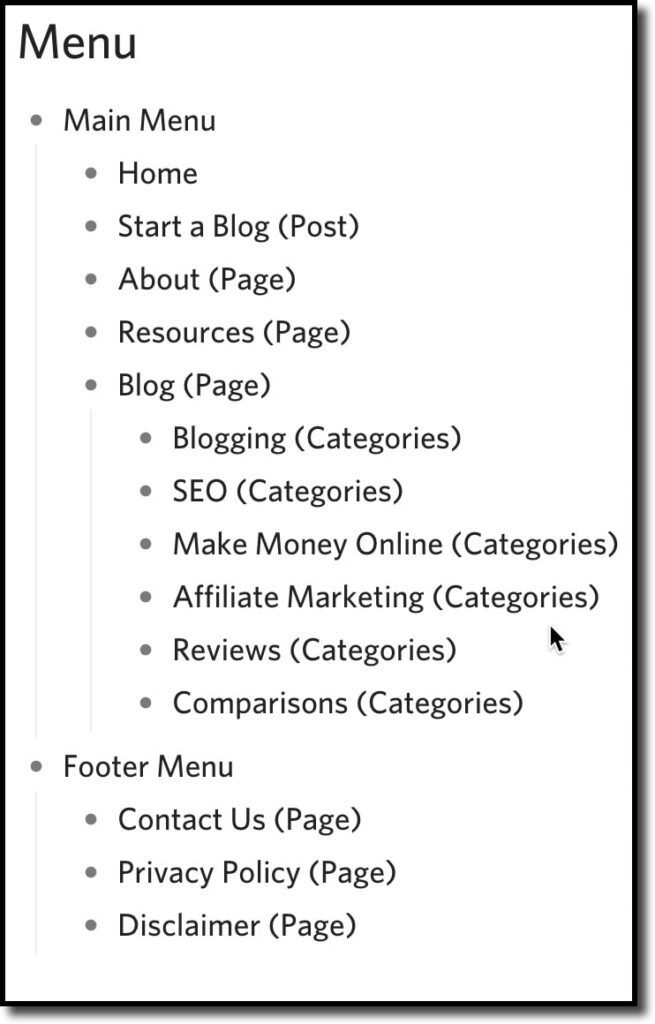 You can use Dynalist to organize your site.
Pick a Brandable Domain Name and Extension
Now that you are done with the niche research and planning…
And…
You have your niche.
It's time to get your domain name and extension.
You might have noticed that I have used "Brandable" in the heading.
It is very important to choose a brandable domain as I have already mentioned that you have to treat your blog as a business.
Domain names are the part of branding…
And…
It can create a good impression and trust in your visitors.
Let me ask you one question.
Which website will you trust more bloggingseo-for-newbies345.com or serpsprouts.com?
You will say the later one.
How to Pick a Domain Name and Which Extension to Choose?
You should keep the following things in your mind before going for a domain name.
Domain Name Should Have
It should be broad so that you can scale when required.
It should be short and easy to remember.
It should convey a message and must be unique.
Should fit your brand.
Good to have .com extension as people trust them, it is easy to rank internationally and link building will be easy.
Should pass phone test meaning if you tell your domain to your friend on phone then he should understand.
Domain Name Should Not Have
Avoid hyphens and numbers as this may hurt the trustworthiness and may look spammy.
Avoid buyer keywords like review, buy, and best.
Avoid EMD (Exact Match Domain) names like bestlaptopsunder20000.com.
If you look at serpsprouts.com. You can see that it ticks all the boxes.
Now let me guide you on how you can do the same.
How to Find Domain Names that Fills All the Criteria
Including seed keyword and branded term in your domain name will be the best thing you can do.
The very first thing you need to do is to write down all the seed keywords of your niche.
You can go as broad as you want. Going for broad terms will help you to scale in future.
Now let me help you by taking an example.
Let's say you want to start a blog on Vacuum Cleaner. Vacuum cleaner is a niche and it comes under "Home and Improvements Market".
So let us make a list of all the possible seed keywords relevant to the Home and Improvements niche.
Home
Abode
Casa
Condo
Crib
Den
In case you are wondering how I came up with the above synonyms.
You can also do the same by going to the thesaurus and can find as many synonyms as you want.
and…
Check the domain availability below.
The next step is to go to the following websites and enter your newly found seed keywords:
Once you find a perfect domain name. It's time to book your domain name ASAP.
But…
Before going further…
Let me clear some doubts that most of the new bloggers have.
Should I Choose Self-Hosting (Paid) or a Free Alternative?
If you remember, I have mentioned that you have to treat your blogging career as a business, if you want to make money online for a long time.
And…
As you know…
Every business needs some investment.
But the best part of this business model is you are investing a very minimal amount unlike we had to invest a huge amount if you had chosen to go for any physical business.
I will recommend you to avoid the free alternative and let me tell you why…
You will not get your domain name like serprouts.com instead you will get serpsprouts.wordpress.com, serpsprouts.blogspot.com, serpsprouts.tumblr.com etc
In case, you use a custom domain there will be limits and you will not own the blog.
You will find it difficult to get full control.
It will be difficult to customize your blog as you want.
Which Web Hosting to Choose?
There are endless hosting providers but most of them will not serve you as you want them to.
I have already mentioned that I use BlueHost, WPX and Cloudways on my various blogs.
But…
Regardless of whichever hosting provider you go for, you should make sure to check the below-mentioned points in your website hosting company.
Speed: The speed of a website is one of the ranking factors. So make sure the web hosting company has good speed.
Security: What level of security the hosting company provides so that there will be no risk to you in the future.
Features: Do you get the essential features with your plan or not.
Support: What kind of support the hosting company provides. Do they give 24 X 7 support or not and other similar services?
Track Record: This is very important as a company with a good track record will give the best experience.
Now the question is…
Does BlueHost have all the above-explained features?
Yes, my friend, that's why I am recommending you.
Why BlueHost is Best for New Bloggers?
As a beginner, you will find it very easy to start your blog on BlueHost and you will get a free domain name for one year, there will be free CDN and Free SSL.
Support
BlueHost support is one of the best in this industry. You can ask for help via phone, support ticket or live chat.
Affordable
They have an affordable pricing system. You can bear the cost of the hosting if you are consistent and take action regularly.
Speed and Performance
Your website will load fast and will always be available.
One-Click WordPress Install
You will have the option to install WordPress with one Click.
Recommended by WordPress
BlueHost is recommended by WordPress.org. So You can trust on them.
Along with all the other features you will also get free email, FTP and much more. You can easily scale later on if needed.
I hope you got the point.
Now…
Let me take you to the next step so that you can easily buy your hosting and get a free domain name.
Get a Web Hosting and Domain Name
Awesome…I hope you have decided your niche and found a brandable domain name. Now its time to get your domain name for free and hosting.
When I started, I used BlueHost and I still use BlueHost on a couple of websites. I will advise you to go with the same hosting as a beginner.
If your pocket allows then you can go for Cloudways, WPX, or Rocket.net. I personally use these hosting providers on my high-earning websites.
However, for the sake of this post, I will guide you to buy hosting and domain from BlueHost.
Now you know where to get hosting from…
But what about the domain name?
Don't worry…
You will get a free domain name if you go with BlueHost and I will show you how to get the domain name for free in the next section.
How to Buy Domain From BlueHost and Get a Free Domain Name
In this section, I will show you how to buy a domain name from BlueHost and a free domain name.
Time to Complete: 15 minutes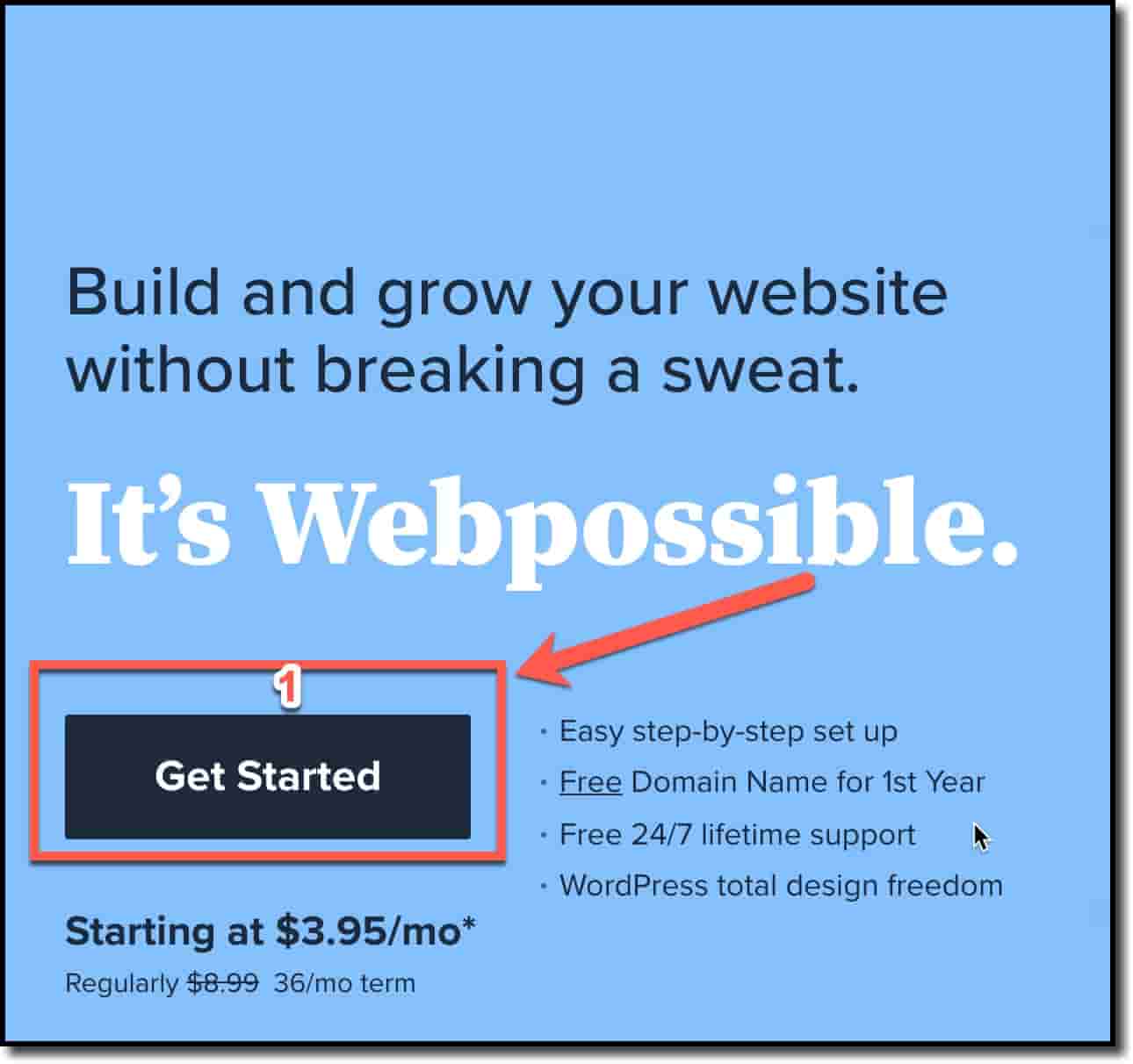 You have to click to the above link so that it will take you to the BlueHost Page.
# Step 2: Click on Get Started.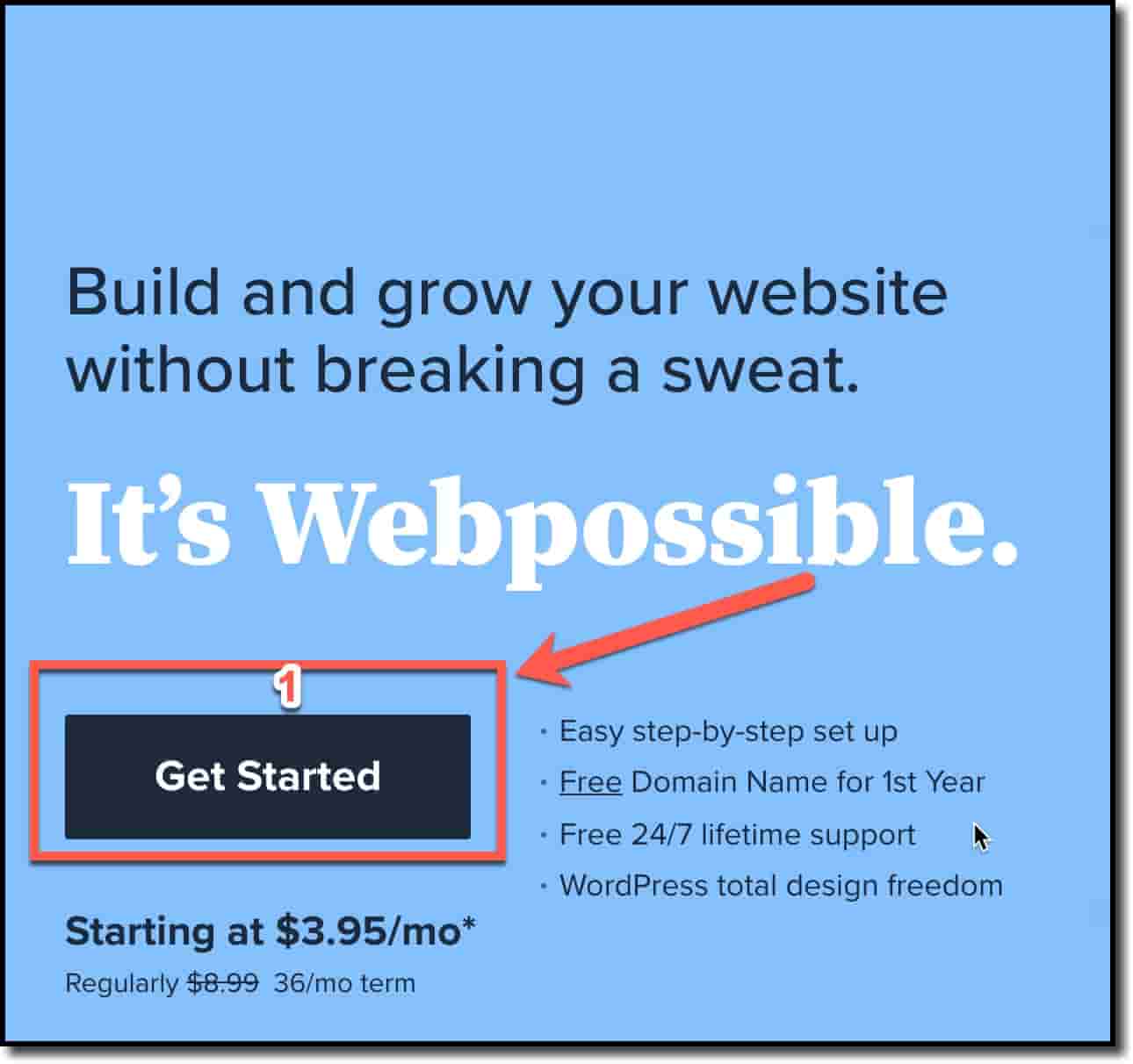 Once you Click on "Get Started". A New Page will open where you have to choose you hosting plan.
#Step 3: Choose the Plan and Click on "Select".
Choose the plan that suits you the best. I will advise you to go for the basic plan
# Step 4: Enter your Domain Name and Click "Next".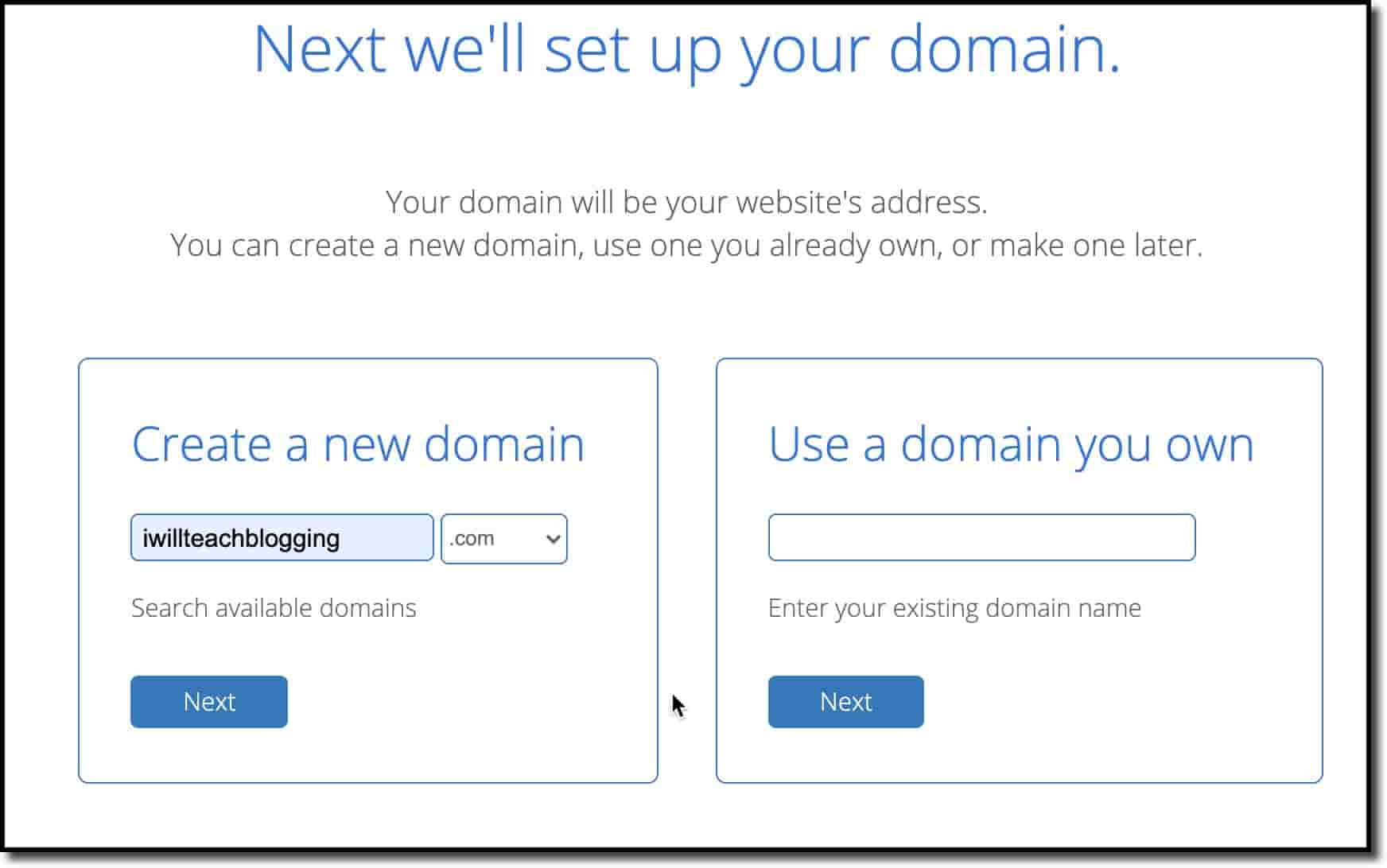 Enter the Domain Name that you have picked in the above section. If you already have a domain name then select the other option.
#Step 5: Enter Your Account Information.
You have to enter your details like Name, Address, Phone number, email, etc in this section.
#Step: 6 Select your account Plan and Package Extras.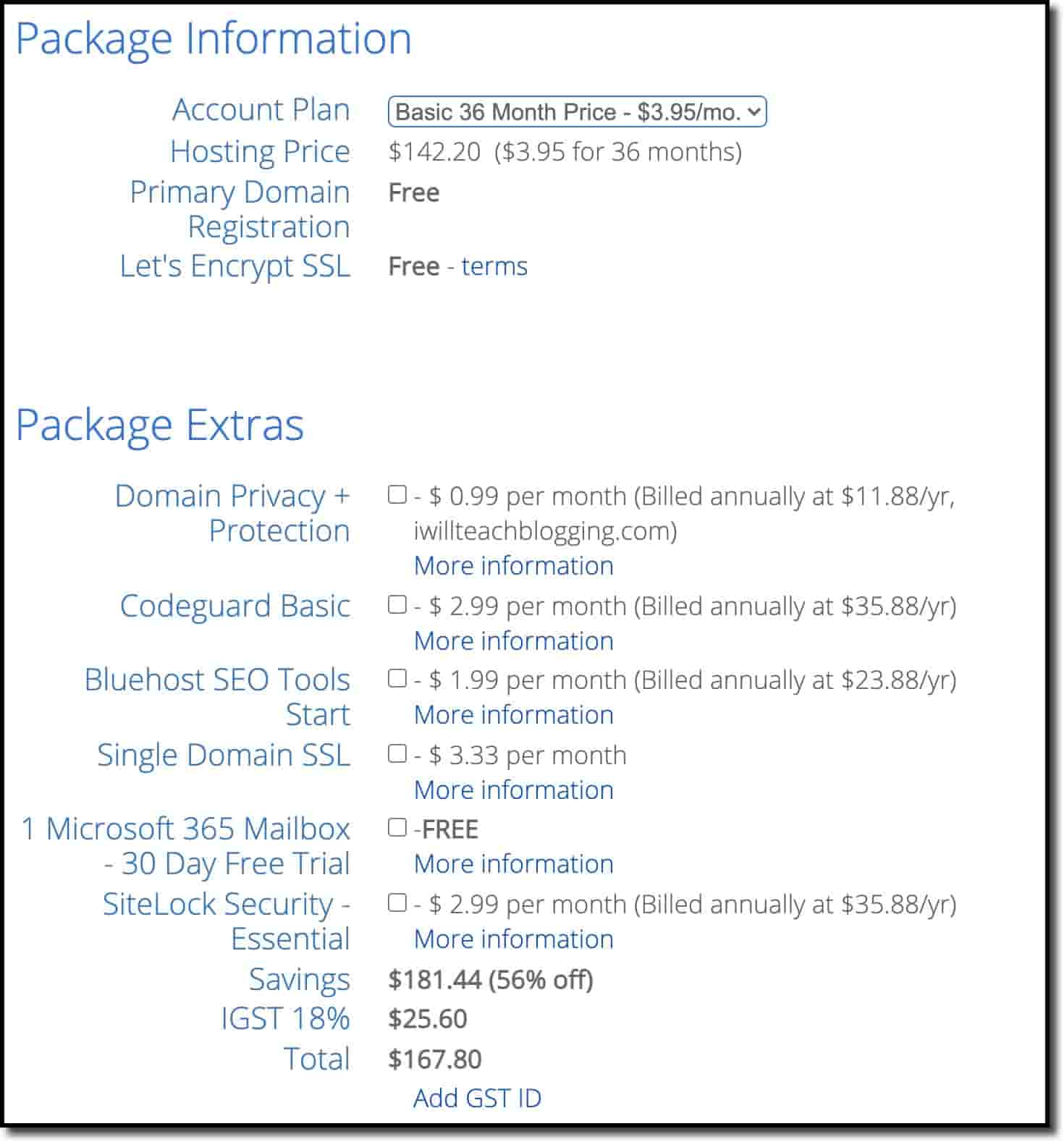 You will have the option to select for one year, two year and three year. Choose the year as per your budget.
Uncheck all the boxes from Package extras. You may select the Domain Privacy + Protection.
# Step 7: Enter Payment Information.
Enter you Credit Card Details in this section. If you want to go for other payment option like Paypal then you can click on "more payment options".
# Step 8: Select Terms of Service and Cancellation Policy and Click on "Submit Button".
You can read the Term of Service and then Click on "Submit Button".
Once you make the payment it will take you to another sales. Ignore this upsell and Click on "No Thanks".
On Clicking on "No Thanks", it will take you to the hosting package purchase Order Confirmation Page like the below image.
Click on "Create Your Password".
# Step 9: Enter Password of your Choice.
You can enter your own password and can click on "suggest Password". It will generate a complex password for you. Copy the password and save it for later use and click on "Next" Button.
# Step 10: Check you Email for Login Detail Credentials.
In the mail you will get your login credentials. You will not see the password here because of security reasons. The password is the same that you have created a couple of minutes ago in the previous step.
Awesome!!! Pat you back…You have purchased your first domain name and hosting.
Now you can login to your BlueHost account and see all the details.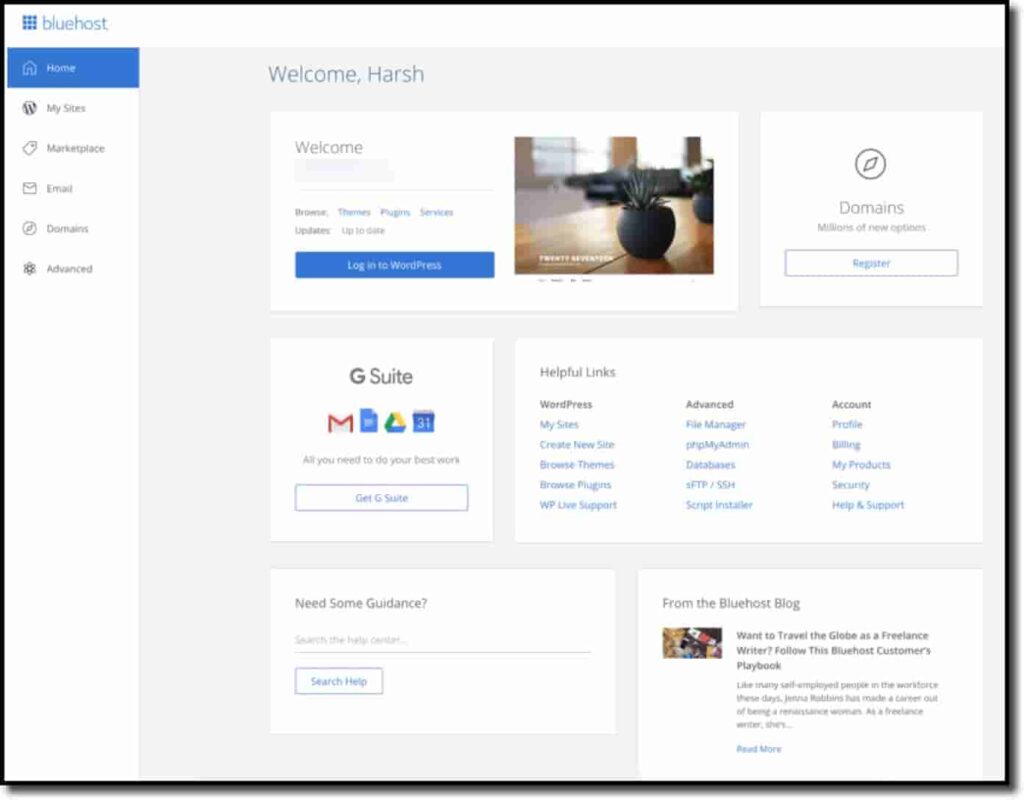 Your dashboard will be optimized for WordPress.
Design Your Website as a Brand
I don't understand why most of the top bloggers don't talk about this.
As I have already discussed in the mindset section to treat your blog as business…
And…
Branding is the first step. Deciding your brand colors, fonts, and logo will make things a lot easier in the future.
You may say…
Why take the burden now?
Why can't we do this later? When our website gets some tractions.
I made the same mistake and believe me it cost me a hell lot of time and money until I figured out this.
Just remember one thing, there are reasons behind big business spending a hell lot of dollars in branding.
Why is Branding so Important?
Brand is one of the ways to express yourself to your audience.
Your website visitors will trust you more if branding is done correctly.
The advertisers will show more trust in you as compared to other websites.
Your website will look very professional.
It may help you in link building as other webmasters will trust your site.
Now…
The question is what are things that you need to take care of?
You need to have consistent brand colors and fonts throughout the website…
And…
A professional looking logo.
The Tools that you can use to…
Choose Brand Colors
Fonts for your Website
Logo for your Website
Looka: I use looka (formerly known as logojoy)
Fiverr: You can buy a professional logo on Fiverr.
Once you have decided your fonts and brand colors. You can save it on google docs for future reference.
Now you have your branding details. Let's jump to your websites and look for the changes that you need to do.
Customize Your Website and Make it Look Professional
When you log in to your website backend you need to make some basic changes in your website which will make your blog look professional and will also help in SEO (Search Engine Optimization).
In this section I will so you how to:
Make some basic changes in WordPress.
Choose the best WordPress themes.
Install WordPress Theme.
Use Branding like brand colors, fonts, etc.
Install Plugins.
Make some basic changes in the WordPress
The very first thing that you need to change is the Permalinks structure.
For this you need to go to yourwebsite.com/wp-admin (you will have to write your website name) and then enter your login details.
Now go to settings > permalinks > select post name and click on "save changes".
Next…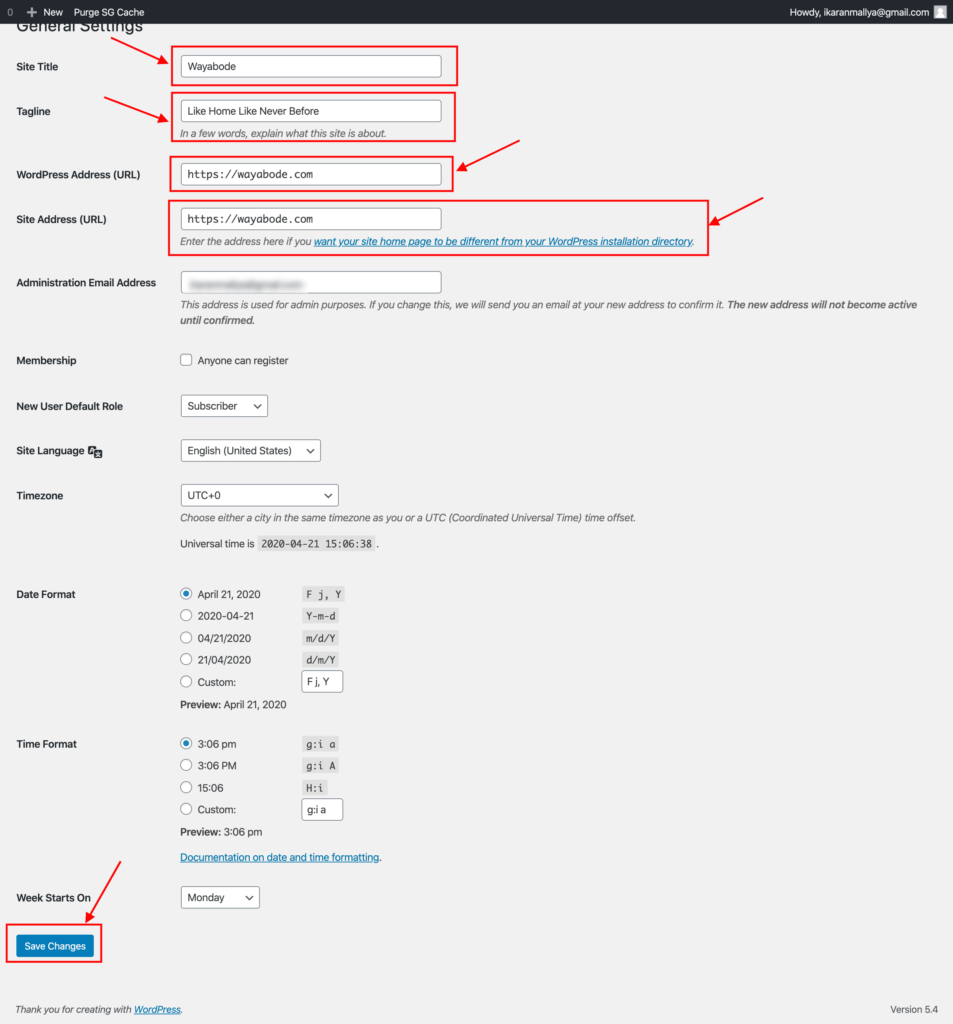 Go to settings > General settings and change Site Title, Tagline, make sure WordPress Address (URL) and Site Address URL has https and then click on save changes.
How to Choose a WordPress Theme?
The default themes that come with WordPress are good but they have some restrictions. Now how to know which theme is good.
The themes must have the following features:
It should be simple. As a beginner, you may be attracted to buy a fancy theme but believe me, it will harm the website more.
It should work on different browsers (chrome, safari, firefox, internet explorer, etc)
The theme should be responsive and mobile-friendly.
It should support the plugins.
It should be SEO-friendly.
The support of the plugin should be good.
It should be lightweight. You can check the speed on Pingdom, Gtmetrix, and google page speed.
The theme should have fewer coding errors. You can check this on W3C Validator.
The reviews and the ratings should be extremely good.
Best WordPress Themes to Install and My Personal Favourite
Astra Theme and Astra Pro: Astra theme is free to install. I use Astra and Astra Pro along with Elementor Pro.
Thrive Themes: Thrive Themes have paid plans only. I also use thrive themes on a couple of websites.
GeneratPress: GeneratePress has free and paid both.
StudioPress: StudioPress has free and paid both.
How to Install Theme on your WordPress Website?
Let's say you have decided to go with me and have opted for Astra. So to install Astra you need to go to yoursite.com/wp-admin > Appearance > Themes > Add New > and Look for Astra in the search box.
Once you see Astra Theme. Click on Install and then Activate.
How to Install Plugins?
Plugins are software that extend functionality or add new features to your WordPress websites.
Now lets us try to install Elementor Plugin.
To install plugins you need to go to yoursite.com/wp-admin > Plugins > Add New > Look for Elementor in the search box.
Once you see Elementor Page Builder. Click on Install and then Activate.
Must-Have Plugins
Below I have mentioned the plugins that are must for an awesome website.
Backup Plugin: Backup Plugin will help you to keep a backup of your website and data. It will be useful if your website data got deleted in some way. You can use UpdraftPlus.
SEO Plugin: Seo plugin will make most of your work easy while doing on-page SEO. It will help you to customize your title, meta description, slugs, etc. You can use Rankmath (Recommended), Yoast, or SeoPress.
Page Builder Plugins: These plugins will help you to customize/design the pages/post of your blog without any coding knowledge. It has many other features that I will discuss later. You can use Elementor Pro/Thrive Architect (Recommended), Divi, Beaver, etc.
Insert Headers and Footers: Insert Headers and Footers plugin will help you to insert Google Analytics, Google Search Console, and any other scripts in the header or footer.
WP Rocket: WP Rocket will help you to optimize your website in terms of speed. You can minify CSS, Javascripts, etc.
Easy Table of Contents: This plugin will help you to create and display a table of contents from the page or post content.
Smush: Smush will help you to improve performance and boost the SEO of your website by reducing the size of the image.
GDPR Cookie Consent: This is one most important plugin as it will help your website to show that it complies with cookie law and GDPR.
Social Snap Pro: Social Snap social sharing plugin. This plugin will help you to increase traffic from Social Media.
Create Essential Pages and Categories
Once you are done with installing all the essential plugins. You can create the most essential pages and categories.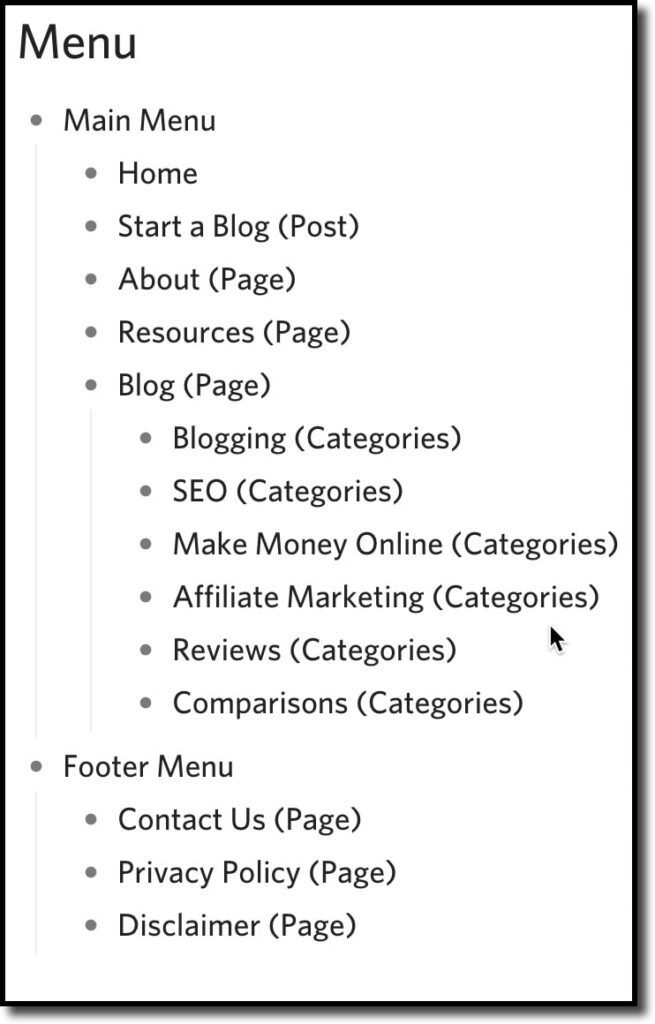 You can use Dynalist.io to structure your pages and categories.
I hope by now you have your pages and categories structure.
How to Create Pages, Posts and Categories In WordPress?
Pages: Go to yoursite.com/wp-admin > Pages > Add New > Add Title
Posts: Go to yoursite.com/wp-admin > Posts > Add New > Add Title
Categories: Go to yoursite.com/wp-admin > Posts > Categories > Add New > Name (Enter the name of the category).
Important Pages to Create
About
Home
Contact
Privacy Policy
Disclaimer
I hope by now you are ready with your pages and categories.
I must say you are an action taker and believe me no one can stop you to make your first dime online.
Now it's time to write your killer first post and publish it.
In the next section I will explain to you all the important things that you need to take care of while writing your article.
Write Your First Blog Post and Publish
I am very much sure that most of you can write a post and publish it.
But…
You may find it difficult to rank your post in SERP and get traction.
Converting your website visitors into buyers can be a challenge.
Hence…
We can conclude that…
That main purpose of any blog is to:
Get visitors or traffic.
Provide them value.
Convert them to buyers.
Earn Money.
The good news is you can optimize your blog post in such a way that it covers the above points.
If this is your first post and have not written an article before.
Then I will suggest you to follow and apply all the points that I am going to discuss in this section.
The same applies to any blogger who has done some work but didn't have much success.
Choose an SEO Friendly URL / Slug
Use your primary keyword in the URL.
Try not to include numbers in the Url.
Don't use stop words in the URL like 'a' and 'the'.
Try to make it short. 3-5 words is a good number.
Try to add dashes in between words. If you have installed Rankmath or any other SEO Plugin. Then automatically it will add dashes in between words in the slug.
Write a Compelling Headline or Title of your post
The length of the title should be anywhere between 55-60 characters. Not more than that.
Try to mix the title with powerful, emotional, common, and uncommon words.
Include the main keyword in the title and it should be readable.
The headline should match the user intent.
You can include a word in parentheses or brackets to make it stand out from your competitors.
Try to capture readers' attention by including numbers (11, 21, 10, etc) in the headline. An example would be "11 Easy Steps to Start a Blog & Make [$944/Month] in 2021" and "How to Start a Blog in 2021 & Make Money [11 Easy Steps]"
Use Headline Analyzer Tool to know the effectiveness of your post headline.
Write a Conversion Focused Meta Description
Meta Description will not impact the SEO of the post directly but it has an indirect impact.
A well-optimized meta description can increase the CTR (Click Through Rate) and this will boost your rankings.
You should consider the below points to optimize the meta description.
The optimal length of the meta description should be anywhere between 156-160 characters.
Use your primary keyword in the meta description.
Try to include a pain point and the benefit of your targeted keywords.
Don't repeat the words.
Make it compelling and relevant.
The meta description should not be duplicate. Make it different from the Headline.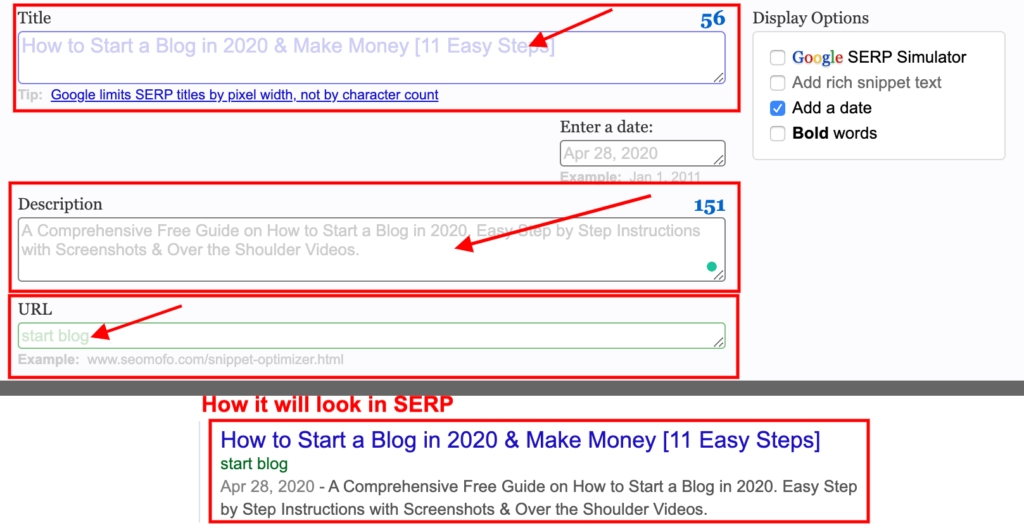 You can use SEOMofo to optimize the title, meta description, and slug. You can take a look at the image above to see how it will look once you optimize all three.
Craft an Attention-Grabbing Introduction for Your Blog Post
Introduction is one of the most important sections that you need to optimize.
As…
Most of the readers will decide to stay or leave your website. If you manage to hold their attention and make them read the full content then definitely your post will rank in a couple of months.
Here are some of the points that you need to consider:
The introduction should not be more than 80-100 words.
Include the exact keyword in the introduction as naturally as possible.
Mention the problem that you are going to solve in the post.
If possible show them what could be the possible result if they take action.
Explain why the problem needs to be solved and what could be the possible loss they can have if they leave the problem unsolved.
If possible try to start with statistics or quotes.
Write a Perfect Body Content
Once you're done with the introduction you will have to write the body content where you have to talk about the problem in detail and how they can be benefited.
Consider the below points while writing the body as the primary goal should be to take the readers to the end so that they get some value.
Make use of Heading tags (H2-H5) in the post.
Maintain the hierarchy of the Heading tag. For example: After H2 the next subheading should be H3 in the same topic, not H4.
The paragraph should be short and to the point.
Use PEN Technique (Point, Explain, and Next) when you start any paragraph. Point the problem, Explain what, where, how, when, and then move to Next Paragraph.
Try to explain your points in subheadings as most of the readers will skim the post and decide whether to read or to leave the site.
Link to the different authority websites if you are taking any references from them.
If possible try to link to any relevant post on your website (Internal Linking).
You can use styling (bold, italics, underline, etc) to emphasize the key parts of the post.
Try to include LSI keywords in the body of the post.
You can also use secondary keywords in the sub-headers.
It should be readable.
"One alphabet at a time, you can write an encyclopedia. One word at a time, you can publish an entire library."
― Israelmore Ayivor.
Wow…
Congratulations you have done a great job.
What next?
You need to promote your post so that you can attract some visitors.
Remember one thing: Content + Marketing = Traffic.
How to Promote Your Blog and Get Traffic?
Traffic is considered as the fuel for any website. There is no point in making a beautifully designed website if you cannot attract visitors to your blog.
There are various ways to get traffic and I will discuss some of the most effective ways and my personal favorite one.
Search Engine Optimization (SEO)
SEO is the art and science of increasing the visibility of your website in front of Google and your users.
Search Engine Optimization is a process of increasing the traffic.
The traffic that you pull from google is organic and you don't have to pay to the Big G to rank your website.
SEO is divided into two parts:
On-Page and On-site: Keyword Research, Site Audit, etc.
Off-Page: Link Building.
On-Page
When we optimize any page of our website to rank higher in Google is known as on-page SEO. We have full control over on-page SEO.
On-Site
On-site and on-page SEO is the same but the only difference is, in on-site we optimize the whole website, and On-page we optimize a single page.
Off-Page
Off-page SEO refers to the activities that we do outside our website to rank in SERP. We don't have much control over this. Link building is an example of off-site SEO. Creativity and art are involved in off-page SEO.
Using Social Media to Promote
Social media is one of the effective ways to promote your blog posts. There are various social media platforms where you can promote your post.
Some of the platforms that you can consider are:
Pinterest: You can use visual content, Infographics, and step-by-step photo guides.
Facebook: You can use curated content, videos, GIFS, and photos.
LinkedIn: Most professionals spend time on Linkedin. You can create a career, news, and professional content.
Instagram: Instagram is a place where you can promote quotes, high-resolution photos, short videos, and stories.
Reddit: Reddit is a place where you can find threads of almost every niche. You can provide value and promote your post.
Twitter: You can share your blog posts, your industry-related news, and GIFs on Twitter.
Forums and Social Media Groups
Forums and Facebook Groups are also a good place to promote your post. You have to provide value first then you can start promoting your post.
You can find many FB Groups in your niche. To find forums you have to go to google and type "Your Niche + Forums".
For example "SEO + Forums".
You can use this query to find forums in google:
[Your Niche] inurl:forum|viewthread|showthread|viewtopic|showtopic|"index.php?topic" | intext:"reading this topic"|"next thread"|"next topic"|"send private message"
Some of the Other Ways to Get Traffic
You can gather emails from your visitors and promote your articles to them.
Answering your niche related questions on Q&A sites like Quora and Yahoo Answers.
Writing a short post on Medium and Linkedin.
Interview influencers in your industry.
Network with other bloggers, influencers and mention them in your blog.
Remember one thing you need to provide value first and never spam on any social media platform.
Hey Karan…
So much work…
How we will earn money?
And…
How we will monetize our blog?
I know this would the question you might be thinking of…
But the wait is over as I will discuss the same in the next section.
How to Monetize Your Blog and Earn in Four Figures/Month?
There are an end number of ways to monetize your website. I will explain the best and some very known ways here.
Affiliate Marketing
When you promote other products and get a commission when any sales happen. This is the most known method of earning money online. Some of the good affiliate programs and networks are:
Amazon Associates.
Shareasale.
ClickBank.
CJ Affiliate (formerly Commission Junction).
Rakuten
Impact.
Advertising
Most of the beginners and even some pro bloggers make money by advertising. It is one of the easiest ways to monetize your blog. Even most of my websites are monetized by advertising.
Some of the advertising networks are:
Google Adsense.
Media.Net
Propeller Ads
Popads.
Infolinks.
Selling Online Courses and Products
If you are an expert in any niche then you can monetize your blog through this method. I won't recommend you to sell your product or online courses at this point of time until you are an expert.
Sponsored Content
If you manage to get tons of traffic on your website then you can go for this method and monetize your blog by sponsored content.
But…
I don't recommend this method as this method can hurt your website SEO if not implemented properly.
Selling Your Services (Freelancing)
There are several skills that you can monetize by selling in the form of services. If you have any of the below-mentioned skills then you can start pitching to your potential clients.
Copywriting.
SEO.
WordPress Development.
Social Media Management.
Graphic Design.
Virtual Assistants.
Search Engine Marketing.
Photography.
Microsoft Office.
Software Development.
"Waiting for the perfect time and opportunity. It never comes – start now."
― Amit Ray.
FAQs (Frequently Asked Questions)
IS IT WORTH STARTING A BLOG IN 2021?
This is the best time to start a blog. Blogging is one of the easiest ways to make money online. 
CAN YOU START A BLOG FOR FREE IN 2021?
You can start a free blog anytime but if you want to make serious money then you should consider a self-hosted platform. If you start a business but you don't have full control over that. Starting a free blog is something like that. There will always be some restrictions.
HOW DO YOU START A BLOG FOR FREE?
If you don't want full control and don't want to make serious money then you can go for free blogging. There are various free blogging platforms.Worpress.com, Blogger.com, Wix.com, Medium.com, Tumblr. You can go to any of the above free platforms, sign in, and start your free blogging journey.
HOW DO YOU BECOME A BLOGGER AND GET PAID
To become a blogger, you need to start a blog and start blogging in any specific niche. You can read the complete post to become a successful blogger and start earning.
HOW DO I START A PERSONAL BLOG?
To start a personal blog you need a domain name and a good hosting. You can refer to the post for more details.
HOW DO BEGINNER BLOGS MAKE MONEY?
Advertising and Affiliate Marketing are the most common and known ways through which beginners make money online.
HOW MUCH TIME DOES IT TAKE TO START MAKING MONEY FROM BLOGGING?
It depends on the efforts, hard work and time you give on your website. However, typically it takes 6 months to see the ball rolling.
DO BLOGGERS GET PAID?
Yes, bloggers get paid. They get paid depending on their monetization strategy and commission they earn from different platforms.
IS WORDPRESS FREE?
Yes, WordPress is free but you need a hosting and a domain name to install WordPress.
HOW DO I CREATE A PERSONAL BLOG FOR FREE?
You can use blogger.com or any other free platform.
HOW MUCH DO BLOGGERS MAKE?
There is no set number but some bloggers make in 5-6 figures/month and some bloggers fail to make a single penny. 
HOW DO I DETERMINE HOW MUCH DEMAND THERE IS FOR THE TOPICS I WANT TO BLOG ABOUT?
There are various ways to validate your niche and topic. You can go to google trends and see the trend of your selected niche. Read the niche selection section in this post to get a detailed idea about this topic.
HOW DO I GET READERS TO COME TO MY BLOG?
There are various ways to get readers to your blog. SEO is my personal favorite. However, you can read more on this topic in the Promotion section of this article.
HOW DO I LOG INTO WORDPRESS ONCE I'M LOGGED OUT?
You simply need to go to yourwebsite.com/wp-admin and enter your credentials.
HOW MUCH DOES IT COST TO START A BLOG? IS IT EXPENSIVE TO START A BLOG?
You can start a professional blog anywhere between $50-$100. I don't think it's expensive. If you work hard with proper strategy you can easily earn more than this.
WHO IS THE HIGHEST PAID BLOGGER?
Many bloggers make a huge amount of money from their blogging careers. Pat Flynn, Adam Enfroy, Harsh Agarwal, and Ryan Robinson are a couple of them.
I hope you liked the post on How to Start a Blog and Make Money Online? I have covered all the important points that you need to be successful.
To conclude if you take action, you will definitely make your first dime online. The money will keep rolling.
Make sure you have read the Blogging Mindset part carefully, bought your domain name, hosting, and made all the necessary pages.
I am with you all the time. You can ask your question in the comment section and I will answer all the questions. It will be great if you share this post as it might help your friends as well.