This post is on How to Start an Outdoor Blog.
If the beauty of nature fascinates you and you're really passionate about traveling the horizons, capturing your journey in the form of an outdoor blog could be a profitable decision.
It will not only boost you to extend your limits but also turn out to be money fetching opportunity.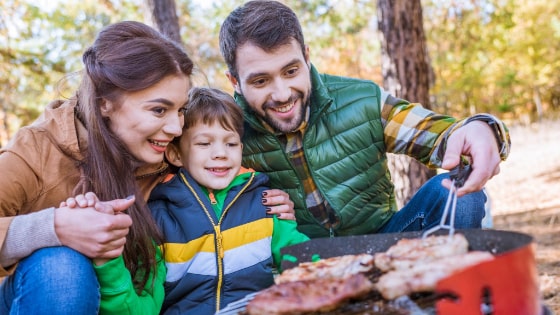 All you need for starting an outdoor travel blog is consistency, patience, and an unending desire for exploration.
This article will walk you through the process of starting an outdoor blog even if you have zero knowledge of the subject.
Stick with me till the end and you will end by setting up an adventure blog for yourself that yields you money.
Table of Contents
Why should You Start your Outdoor Blog Today?
There is no substantial reason for not starting an outdoor blog. However, you should consider not building a blog for the following reasons –
If you don't want to use your passion as a source of passive income.
If you totally hate outdoor adventures.
If you don't fancy traveling and exploring the extremes of abundant nature.
I am sure of the fact that if you have been able to make it through reading the introduction, you clearly do not fall in the above category of people (who hate adventures).
So, without further ado let me clarify the exact reasons which would compel you to start your blog right after reading this post.
Blogging is becoming an extremely lucrative, flourishing, and transformative industry. Although it would seem like a saturated field to get into, once you get the hang of how things work (which will happen as your experience grows), this part-time income source will soon turn into a passive one.
You will get exposure and connect with fellow outdoor travel bloggers along the way. There is no end to learning and when you meet new people and engage in a fun physical activity with them, your desire for learning increases and you eventually become more absorbent.
Once you start your outdoors blog, you'll want to monetize it using affiliate links or run ads through AdSense. Through this, you'll not only get brand recognition but also some free products to use, review, and link to (and who doesn't love freebies?).
Most importantly, your blog will be an open space for you to share your wonderful journey with a loyal audience. Your outdoor blog posts will be like a transparent journal, recording every experience in the form of words and images.
Define your Niche and Narrow it Down
Now, before planning out anything, be clear of the niche you want your content to revolve around.
Jot down your area of interest, the geographical locations you would be covering, the activities you want to deal with, etc.
If you try to cover the whole "Outdoor Blogging", it will be very vast and your audience won't be interested in knowing anything and everything about the outdoors blog.
But, this doesn't mean that you narrow it down to the level that there is no audience left to engage with your blog.
You might also experiment with the kind of posts you want to publish.
It could either be a "Step By Step Guide", a "Review On", or a "Things you need to before" sort of content.
You can also choose to post image-heavy content and insert authentic pictures clicked by you to support your posts.
Get a Domain Name and Purchase a Hosting Service
Selecting a domain name for your adventure blog is a creative step. And you need to brainstorm ideas to come up with a name that depicts the style of your blog, is short and simple, and most importantly, is available.
You can check the availability of your domain in tools like Domain.com and Bluehost.com.
Now, coming to the hosting service, I would again recommend Bluehost for beginner bloggers as it is not complex or extremely technical and you can use it very easily.
All you need to do is, select the best plan for yourself, type in your domain name, and buy add ons to enhance the functionality (optional).
We have discussed a full-fledged guide on how to purchase a Bluehost plan in the article, how to start a food blog.
Make sure that you scroll down to the relevant section and check the complete process.
Select the Perfect Blogging Platform
When you are done buying a hosting service, it is then time to choose a blogging platform. I personally like to use WordPress since it has literally all that you could expect from a blogging platform.
From easy-to-use functions to installable plugins, you will get everything covered here.
I have talked about the various themes and plugins on WordPress below.
Design or Install a Theme for Your Outdoor Blog
The first thing that you want to take care of regarding the setting of your blog theme is mobile usability.
Make sure that your blog's design is responsive on all devices, be it laptop, phone, or tablet as most people are inclined towards using portable devices for general searches.
A simple google search like, "The Best Outdoor Blog Themes On WordPress" will serve you amazing options and you can choose the one that matches the tone and energy of your blog.
Here are 15 WordPress themes That Could be a Good Fit for an Outdoor Blog:
Aveda Theme
Yokoo Theme
Kayaking Theme
Amory Theme
Hunter Theme
Xtrail Theme
Briny Theme
Alpins Theme
Outdoor Theme
Adventure Press Theme
Alvaro Theme
Campterra Theme
Natural Theme
Altitude Pro Theme
Navigation Pro Theme
You can always go for customizing your own theme but be ready for spending a lot of time on that.
If you are a beginner in the field, I'll suggest you stick to the pre-made themes on WordPress and later on add your touch when you have a steady flow of income.
Choose Plugins For Your Blog
Plugins are important add-ons for the enhancement of the content you post. Some essential plugins that can be installed in WordPress itself are –
Write Exclusive Content
For writing valuable content it is crucial to plan your posting and create a content calendar for the same.
To get the hang of relevant content that your audience would appreciate, you must study the activities of your target audience as well as competitors.
In case you are fascinated by photography and want to include your travel pictures in the blog, you could present image-heavy content.
This type of content will contain a comparatively larger proportion of images and your outdoor activity blog will highly depend on the quality of your snapshots.
Now, when you start to plan the outline of your content make sure that you begin with a very tempting headline.
This would intrigue your readers and make your blog post clickable.
Your creative headline should be followed by a hooking introduction that makes the reader inquisitive enough to stay on your page.
What Are Some Outdoor Blogs You Can Take Inspiration From?
It is always advised to expand your knowledge and take inspiration from successful people in your industry.
This will increase the bandwidth of your learning capabilities and you'll get opportunities to add your touch to the existing trends.
And so…
I have listed some successful outdoor blogs that will motivate you to create something as unique:
Build Online Visibility
Having a strong online presence is very vital for promoting your outdoor blog. It will give you a sense of exposure when you are constantly engaging with your loyal and valuable audience.
Here are the top 3 methods to build your online visibility:
Use social media platforms.
Use email newsletters.
Collaborate With Influencers.
Drive Traffic Through Social Media Platforms
Social channels are the easiest modes to reach out to your target audience and educate them about your blog.
Having an active account on at least 1 social media platform is extremely vital for the growth of your outdoor blog.
Since outdoor blogs have a lot to do with visuals, platforms like Instagram, Pinterest, Youtube, and Facebook are the best to display your adventurous activities and promote your followers to become loyal readers.
You want to utilize these channels by optimizing your profile, tagging your fellow bloggers and influencers, commenting under relevant posts, and using hashtags to get discovered.
There is so much more, you can do just by spending some time, promoting your blog on social media.
Through Email Newsletters
When you launch your blog, be sure of popping up a subscription message to your email newsletter.
Make the proposal engrossing and compelling enough to make your one-time visitors a loyal audience.
As far as the content of your newsletters is concerned, keep it crisp, informative, and chatty.
Let the subscribers enjoy reading your emails and instantly connect with the subject.
You also need to possess a little knowledge of copywriting and persuasion skills to make your email newsletters engaging and interactive.
Through Collaborating With Influencers
This step is immensely helpful in building credibility and generating a greater amount of traffic.
Since you'll be collaborating with master influencers in your industry, there are high chances that their audience is also interested in engaging with your content.
You can hold these collaborations on your social media channels, which would again add to the building of your personal brand.
All you have to do is, send personalized emails to these influencers, projecting your desire to collaborate with them.
To make your followers more interested in these sessions, you can share a giveaway at the end of the meeting so that they stay involved throughout the end.
Monetize Your Outdoor Blog and Increasing Online Visiblity
Monetizing comes after you have a specific idea of how things work in the blogging world. Being an outdoor travel blogger, you should not be running after just the money.
Although building a constant revenue is the primary reason for blogging, it shouldn't be the only one.
With this, let's delve into the ways to monetize your outdoor travel blog –
Learn SEO techniques
Run ads through Google Adsense
Go for Affiliate marketing
Selling Digital Product or Physical Products.
Learn SEO Techniques
SEO or Search Engine Optimization is an extremely vital step if you really want to claim a good position in the algorithm of search engines.
SEO, if done rightly, can yield you an abrupt rise in rank, making your blog discoverable to your target audience.
However, it is not a cherry pie. You have to acquire the apt knowledge and get access to certain tools which would help you in optimizing your articles and entire blog in general.
There are a lot of free and paid courses available online on SEO. You can either invest in them or simply hire an SEO expert who would do the work for you.
If you choose WordPress as your blogging platform, you get access to the Yoast SEO plugin or RankMath Plugin that gives you a fair idea of what keywords to use and the alterations that you need to do for reaching an optimum SEO score.
Run Ads Through Google Adsense
You can start applying SEO techniques in your articles right from day 1 but I wouldn't appreciate you running ads from the initial day of the launch.
Although ads are going to be the major source of revenue for you, do not hurry and drive off the audience.
You first need to build a sense of trust in the people visiting your blog. Once they are contented, interested, and inquisitive, you can gradually start to put ads in your outdoor travel blog.
Google Adsense is the one network that is used by most bloggers for running ads, and you should go for the same.
It will automatically display the ads relevant to the user, which increases the probability of clicks (and that is what we want since the revenue is generated through the system of pay per click).
Go for Affiliate marketing
There are a plethora of affiliate marketing programs that you can join for revenue purposes.
Although you don't really get a lot of money initially, it will soon increase once the audience that visits your blog has complete faith in your recommendations.
You need to be genuine and open about the products you are linking to in your articles. Give a clear description of what the product is about, how would it help your audience, and what results did you get from it.
Do not link products just for the sake of earning commissions because that would do no good in the long run. If you stay transparent about them, people will buy through you.
The best way is to promote products that you have personally used. This will increase the conversions.
Keys to Make Your Outdoor Blog Stand Out From the Crowd
Here are some additional tips that you can consider imbibing within your blog, to make it a successful blog:
Write in a Conversational Tone
People always tend to be inclined towards things that are interactive and more personal to them.
So, you must keep your tone really cool and flowy.
Using words like "you" and "your" constructs a sense of one on one conversation and readers feel that the article is talking and resonating with them.
Take Care of Technical Factors
Technical factors include a lot of stuff from SEO and mobile usability to site speed. Make sure that all the pages are loading smoothly and rapidly since people don't fancy waiting even a minute for a site to load.
It will take them just a few seconds to skip to another blog (and you don't want that to happen ).
Create Audience Personas
When you know the kind of audience visiting your page, their interests, and dislikes, it would be easy for you to decide the types of content they would be interested in reading.
Purchase the relevant tools, and study the progression of your visitors.
Don't Stop Learning
You wouldn't want to fill the heads of your audience with the same old boring content.
Try to take inspiration from your competitors, read blogs in your niche, take courses on learning new things, listen to relevant podcasts on your topic and mold everything into your article.
Write Quality Content
The ultimate goal is to design evergreen content that seems appropriate and engaging. Write your heart out and don't fake it. People are sure to stick to your blog till the end if they find value in it.
Things You Must Avoid
If you are just beginning to comprehend outdoor blogging, the norms to follow, the do's and don't's, you will be overwhelmed at some point in time.
But, don't let that kill your productivity and the desire to portray your experiences.
Here are some things that one must completely avoid in blogging:
Don't Take It As a Burden
Always keep the initial reason behind your blogging journey in mind. It might feel like a task often times but you need to keep going and enjoy the process.
Don't get anxious if you are not getting results instantaneously.
Never be Inconsistent
You might wonder what difference it makes if you are unstable with posting your articles.
Trust me…
It does make a lot of difference.
It's not only unhealthy for the people that engage with your content but also for the Google algorithm. To overcome this, you should create a content calendar and post accordingly.
Do Not Overuse Ads
People will automatically drive away if your article is filled with ads. Although ads are important, your primary concern should be delivering value to the visitors.
Frequently Asked Questions
What Things Do I Need to Start an Outdoor Blog?
You just need a domain name and good hosting. You can read the post for complete details.
How to Make Money From an Outdoor Blog?
There are many ways you can make money from your blog. I have listed a couple of them below:
# Sponsership.
# Advertising.
# Affiliate Marketing.
# Selleng Digital Products, etc.
Who Can be an Outdoor Blogger?
If you love traveling then you can be an outdoor blogger.
Key Takeaways
If you followed till the very end, CONGRATULATIONS! You are all set for starting an outdoor blog of your own with literally no heavy investment. You just need to be patient with it and forget about the results.
Come back to the article again and revise the important factors for building a blog that turns out to be successful and valuable.
Read a Comprehensive Guide on How to Start a Blog From Scratch and Make Money Online.